I Love You
"I Honestly Love You"
"Truly Madly Deeply Do"
"I've Loved You All Along"
"I'ma Tell You One Time"
A Meta
Today in my Sociology class we had a debate about marriage. What is traditional marriage? What is a
'successful'
marriage? Why don't people want to get married as much anymore? Is marriage a burden or something that makes peoples lives sweeter and more important?
Then someone asked the big question,
"What is true love?"
And the class became a feeding frenzy. There was rapid fire answers and all that could be heard were the arguements between the "Don't you have any sense of romance?" crowd and the "Right, that's ever going to happen" snarkers in the back. And the cliques loudly agreed with each other in their various corners and nooks. While a few of the boys argued about how to treat a lady, only to be attacked as sexist by nearby females. Me, I have never been quiter in my life. I sat there in my seat up front, picking up tidbits of the mass hysteria, and was extremely bemused.
Clearly love is a many splendored thing. What one person sees as a perfect, loving relationship another sees as unevenly matched (because how could love exist in two people who are not equal, for they could never understand each other) or juvenille or sappy or degrading. If we all saw it the same way, we wouldn't have the wealth of good music or good books or good tv that we do.

I love you. It's not a weight you must carry around.


Spike: To the end of the world. Even if that happens to be tonight.
...
Spike: I know you'll never love me.
I know I'm a monster but you treat me like a man.
And that's...
Get you're stuff, I'll be here.
- The Gift, Season 6


"Love is always patient and kind; it is never jealous, love is never boastful or conceited; it is never rude or selfish; it does not take offense, and is not resentful. Love takes no pleasure in other people's sins but delights in the truth; it is always ready to excuse, to trust, to hope, and to endure whatever comes. Love does not come to an end." - The Bible (although, admittedly, I got it from a Walk to Remember)
These things are not always true of Spike and Buffy. They aren't true of many of us out there, but they work for the purposes of this scene. For all the being selfish Spike and Buffy both do in Season 6, they start off with an honest and selfless friendship. Spike is prepared to die in the Gift, but not without letting Buffy know that he doesn't regret her or resent her for the fact that she won't be with him. If the world should end, his love for her hasn't. And he just wants to make that clear.
I love you. It's not a box that holds you in.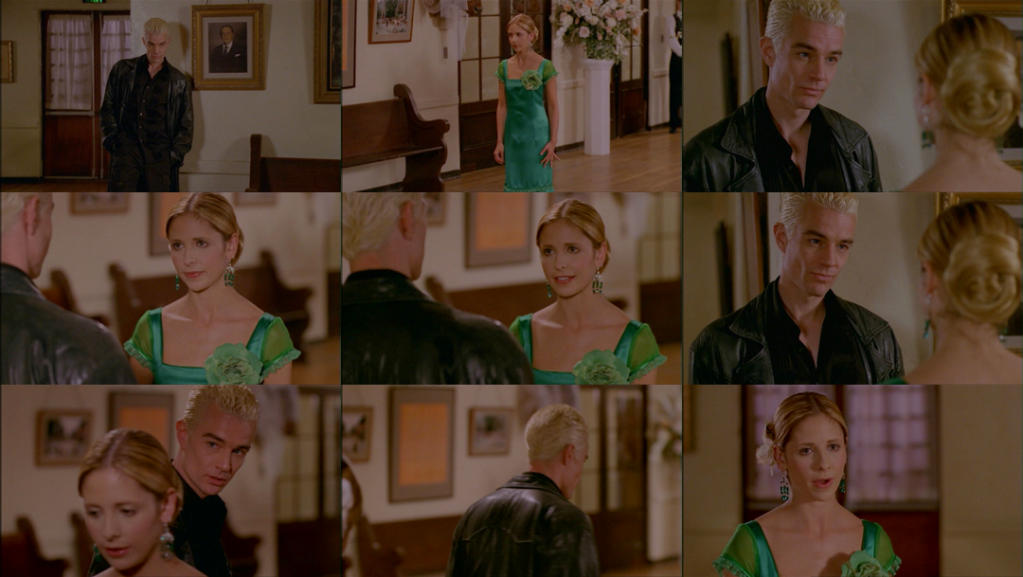 Spike: Hello Buffy.
Buffy: Hey.
Spike: Happy occasion. You meet my friend?
Buffy: Haven't met. She seems like a very nice attempt at making me jealous.
Spike: Is it working?
Buffy: Yes. It doesn't change anything, but if you're wildly curious, yeah, it hurts.
Spike: I'm sorry. Or... Good! You want us to go?
Buffy: No, no...I mean, you have the right to... I mean I pretty much deserve...
Spike: That's not true, you... God, this is hard.
Buffy: I know.
Spike: I think we'll go.
...
Spike: It's nice, watching you be happy. For them, even. I don't see it a lot. You, um... you glow.
Buffy: That's because my dress is radioactive.
- Hell's Bells, Season 6


Hells Bells, for whatever happened after it, was a breaking point in Season 6. Buffy and Spike were able to take five steps back from all the love and sex and control they were being posessive and angry about and let the other have what they needed. Spike was able to give Buffy reassurance, however subtle and understated, that she needed to continue in her quest to return to Normal!Buffy. And Buffy, unlike Drusilla, was able to give Spike a sense of hope (which may have been a bad idea, but I'll get to that) that he needed.

For once they are able to move past their own wants and needs and acknowledge each others. And sometimes, I really wish they had continued on this way.

I love you. It's not a standard you have to bear.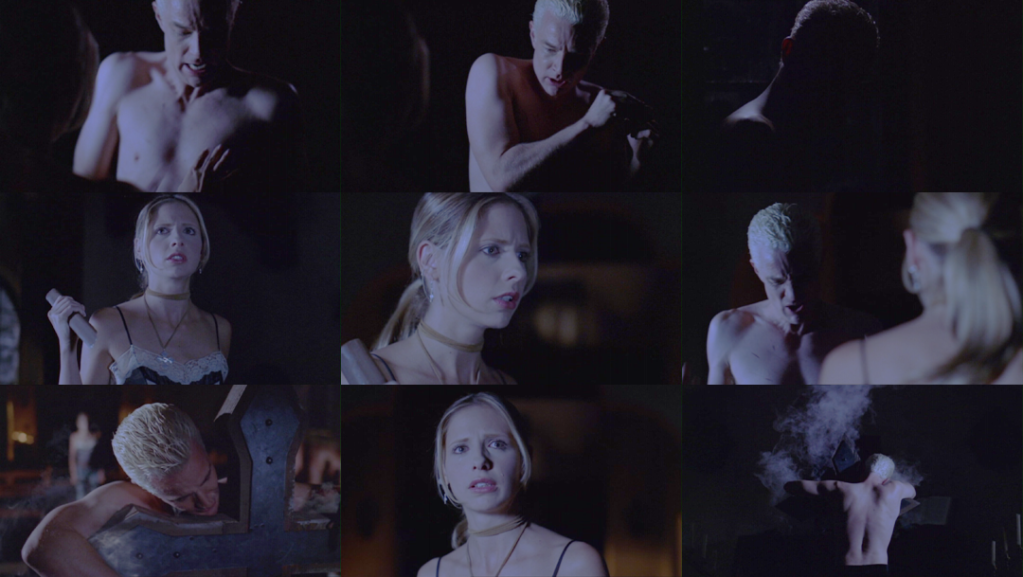 Spike: Angel—he should've warned me. He makes a good show of forgetting, but it's here, in me, all the time. The spark. I wanted to give you what you deserve, and I got it. They put the spark in me and now all it does is burn.
Buffy: Your soul...
Spike: (Laughs) Bit worse for lack of use.
Buffy: You got your soul back, how?
Spike: It's what you wanted right? (Looks up) It's what you wanted right? And--now everyboy's in here, talking. Everything I did...Everyone I--and him... and it... the other, the thing beneath--beneath you. It's here too. Everybody. They all just tell me go... go... to hell.
Buffy: Why? Why would you do that--
Spike: Buffy, shame on you. Why does a man do what he musn't? For her, to be hers. To be the kind of man who would never... to be a kind of man. She shall look upon him with forgiveness, and everyone will forgive and love. He will be loved. So everything's okay, right?
Can--Can we rest now? Buffy...can we rest?
-Beneath You, Season 7
In Buffy and Spike's case, it's just the opposite. Buffy is always waiting for Spike to mistep. There are a million thing that can go wrong, his chip can stop working, he can start masterminding through someone else, he can store demon eggs for with some cheesy codename like the doctor. So when he not only is given a soul, but fights for one for her. It is such a surprise she can't even process how amazing it is.
As
the_royal_anna
says in
her "Spuffy" meta
, "Buffy talks a lot in Season 7 about the fact that Spike has a soul. Of course it matters to her. It is everything to her, because she is the one who lost Angel his soul. That is who she is. That is what she is worth. She is the destruction of what is good and the end of hope, and she can save the world a thousand times but that will still hang over her. Until now. Because suddenly this is how much she is worth – she is worth a soul. She is worth a vampire going out and getting a soul for her, all for her, and yes, it matters to her. She is the Slayer and she can do anything and everything but she cannot earn back that soul, that damn soul that was lost at her hands and regained only for her to destroy it again, sending it to straight to Hell. But this time, this vampire takes it out of her hands. She cannot earn back that soul but he can. And what Buffy is only just starting to understand is what he can do for her is as much hers as what she can do for herself, that this gift of a soul is part of who he is, and who she is, and who they are."
Thus Spike reaches a level Buffy didn't hold him in, did not even know existed. A level even Angel, who he has always been in competition with in every sense of the world, could not hope to reach in a hundred years. Angelus would never in a million years go out to get what Buffy needs for him to exist in her world, he's too bent on destroying it. Had Spike failed, he is still alone in his own category. No curses, no taksies-backsies, this is for her. No-one can take it away, as she later teaches both Giles and Principal Wood, because it's hers as much as his.
I love you. It's not a sacrifice I make.


Spike: Come on. I can feel it, Slayer. You know you want to dance.
Buffy: Say it's true. Say I do want to...
(Buffy shoves Spike backwards)
Buffy: It wouldn't be you, Spike. It would never be you.
You're beneath me.
...
Buffy: What is it now?
Spike: What's wrong?
Buffy: I don't want to talk about it.
Spike: ...Is there something I can do?
-Fool For Love, Season 5


Admittedly, I went a little crazy with this one but this is my FAVORITE Buffy episode. Not only do I love, love, love every move these two make in it, but it really sets the tone for the whole rest of the series between these two. The Beneath theme is an element that runs through the very last episode of Buffy, "from beneath you it devours" and as seen above "the other--the thing, beneath you". Spike will always be below Buffy, but her equal in the same. As
shipperx
puts it in a comment in
buffyquestions
, "They function pretty well as catalyst and reflections for one other." While Spike is everything against in early seasons, the one that briefly destroys her tentatively building relationship with Angel in Lover's Walk, trying to kill Willow in the Initiative, leaving her to her possible death in Becoming, he is also the only one willing to tell her certain harsh truths. "You two will
never
friends." "I can't fight them both alone, neither can you!" "And I'm all you've got." It's an ironic and unique story when your worst enemy is the only one who can see straight through you.
Later on, it allows Spike to act as a foundation for Buffy as she struggles to regain her happiness and normality after her struggle with depression. Unlike before she can count on him, he won't kill her even if the First Evil ever created in his head is sitting there telling him to. He can offer her insight into herself and unconditional love, that at times she might want to ignore, but ultimately needs.
I love you. It's not a pedestal you are frozen upon.

Spike: Her hands.
Dawn: Um, I was gonna fix 'em. I don't know how they got like that.
Spike: I do. Clawed her way out of a coffin, that's how. Isn't that right?
Buffy: Yeah. That's...what I had to do.
Spike: Done it myself.
...
Buffy: How long was I gone?
Spike: Hundred forty-seven days yesterday. Uh... hundred and forty-eight today. 'Cept today doesn't count does it?
(Buffy doesn't respond)
Spike: How long was it for you...where you were?
Buffy: ...Longer.
- After Life, Season 6


As Spike tells Xander right away after Buffy's return, if there's anything in this returned version of her that remotely similar to regular Buffy, no matter how evil or different she might become, he won't let them hurt her. He doesn't love her for the fact that she's a Slayer, he loves her because she's his equal.

When Spike gains his soul, Buffy regards him much the same way. When Angel did something wrong with his soul it was immediately a fault and discomforting. Spike though, he is allowed mistakes. Possibly too many in the eyes of some characters, even when he kills half a dozen people under the control of the First, Buffy refuses to stake him as Anya puts it, "Don't waste your time down that road. Spike's got some sort of Get Out of Jail Free Card that doesn't apply to the rest of us." Love makes you irrational after all.


I love you. It's not an expectation of perfection.


Spike: Trust is for old marrieds, Buffy. Great love is wild and passionate and dangerous. It burns and consumes.
Buffy: Until there's nothing left. That kind of love doesn't last.
...
Buffy: Ask me again why I could never love you.
- Seeing Red, Season 6


I told you this was coming. It's neccessary, as much as we all hate it. Buffy and Spike are a classic display of trust issues. They have no expectations about each other beyond getting hurt at first, mostly because they have communication issues. And partially because they have both come to expect love to be greatly painful and horrible from past experience.
Buffy's had two serious boyfriends, who both left her. The one who took her virginity and then mocked her for it because they had no future. The one who was steady and dependable
and someimtes a bit boring
because she has intimancy issues and refuses to let him into her heart the right way. Spike's dating history consists of a woman who longed after another man for a century or so and was completely mentally abusive despite being the vampire equivalent of a schizophrenic. Neither of them could draw you a picture of what they want a serious relationship to be, let alone had very good examples. Buffy's father was an absentee and Spike's was either the same way or died before he hit adulthood.
No, I do not believe the AR was all Spike's fault. I'm not taking away any of the amount of blame that should fall on his shoulders, he is guilty, he is wrong, he is bad. However, Buffy, who is usually his shining example of the line between good and evil, has been beating him half to death in alleys and using him for her own enjoyment in sex games. You can see the confusion.
Spike wants that ability to bear responsibility though, he wants to go back to the beginning. William was beneath Buffy, but his soul was not.
I love you. It's not my whole life's purpose--or yours.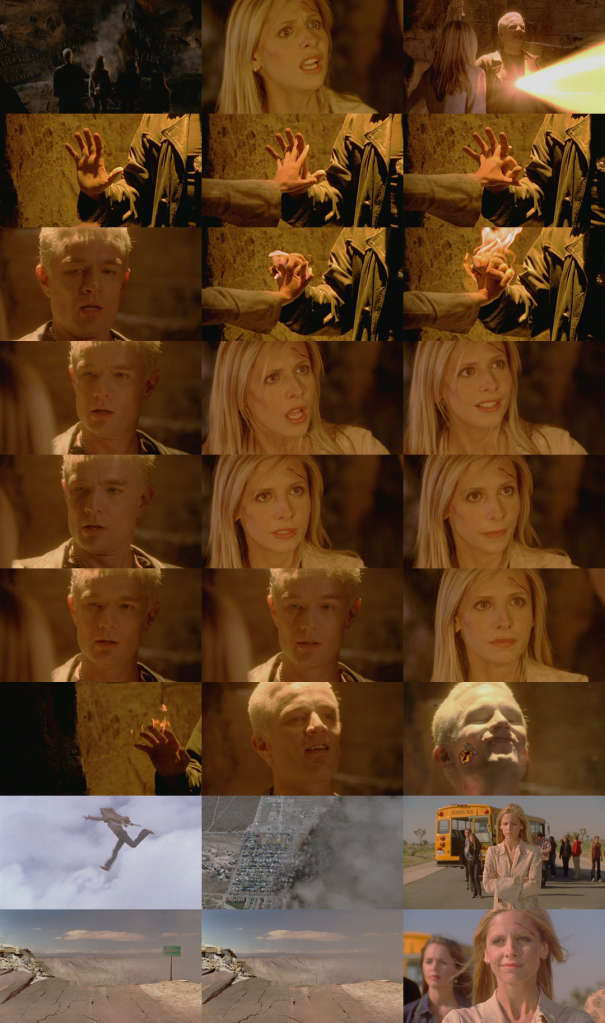 Spike: I can feel it, Buffy.
Buffy: What?
Spike: My soul. It's really there. Kinda stings.
...
Spike: Go on then.
Buffy: You've done enough, you can still--
Spike: No. You beat 'em back, it's for me to do the clean up.
...
Spike: I mean it, I gotta do this.
...
Buffy: I love you.
Spike: No, you don't, but thanks for saying it.
It's your wold up there, now GO!
...I wanna see how it ends.
- Chosen, Season 7


More often than not, Buffy and Spike are thrown together by coincidence. Unlike Buffy and Angel, there is no predivining, no "soul mate" kinship, but there is an undeniable connection from the moment they meet. They are both the non-traditional protagonists. Buffy, although some of her more bull-headed fans would deny it, is often spoiled and selfish despite all her life experience. She finds it difficult to share due to being an only child (Hello, Living Conditions!) and is often brash and anti-social, particularly after the Parker debacle. And she hinted to Angel in Helpless that she was more vapid and ditzy then Cordelia before she was called as the Slayer. Spike is the underdog in every sense of the word. Starts of as a punk (and somewhat stupid) disposable villan, but somehow survives his planned death and then becomes an unwilling to the Scoobies, a lover to Buffy, and eventually survives his own death in Angel.

Chance and luck gave us their love story, however short lived. Their lives can only coincide for as long as they both have purpose to work together. They both live out Buffy's words to Wood in Lies My Parents Told Me, "The mission is what matters." They are at mercy of the Powers That Be, who often criss-cross their paths but only for short bursts. Never do they look as alive as they do when fight each other, or side by side. However, they both have seperate purpose. They want to preserve the world they love (Happy Meals with Legs, Manchester United, Passions, black nail polish, The Bronze, the mall, mochas!) but they also want the experience of falling in love, of friendship, of family, of normal exhilarations like meaningless sex and school. Unfortunately, more often than not the two aren't compatibale choices.

I love you. It's not to make you change.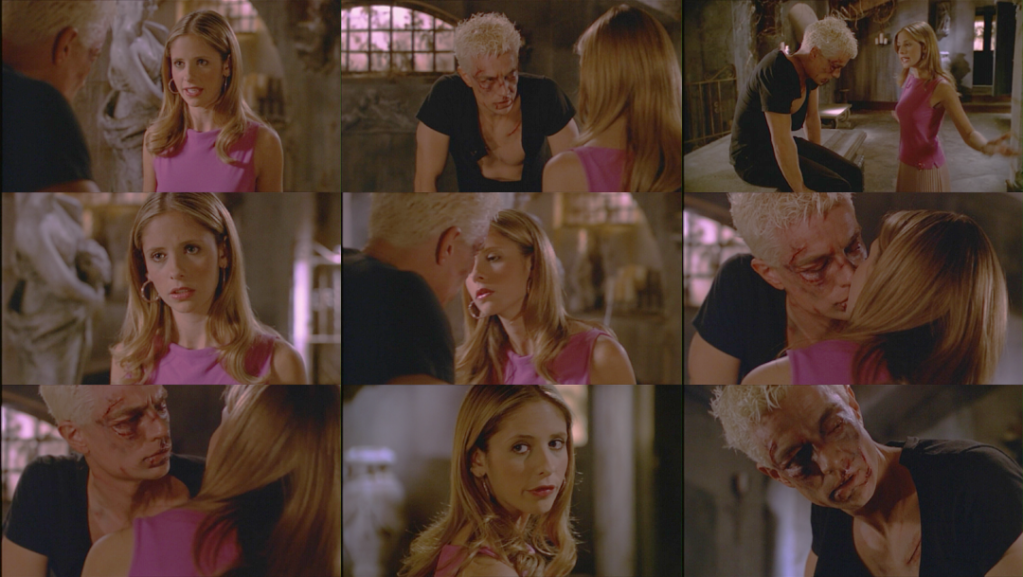 Buffy (Acting as the bot): Why did you let Glory hurt you?
Spike: She wanted to know who the Key was.
Buffy: I can tell her! Then you won't--
Spike: NO! (Coughs painfully) You can't ever...Glory never finds out. Full stop.
Buffy: Why?
Spike: Buffy--the other not-as-pleasant Buffy... Something happened to Dawn it'd destroy her.
I couldn't live, her being in that much pain. I'd let Glory kill me first. Nearly bloody did.
(Buffy kisses him quickly)
Spike: ...And my robot?
Buffy: The robot is gone. The robot was gross and obscene.
Spike: It wasn't supposed to be--
Buffy: Don't. That thing... it's not even real.
...What you did for me, and Dawn, that was real.
And I'll never forget it.
- Intervention, Season 5

Acceptance. Unfortunately, this is a rare occurence in their relationship. What we get of it in late Season 5 and very early Season 6, is immediately washed away by Buffy's depression. It's hard to remember their growing friendship when Buffy is beating Spike with inches of his unlife to get out her own self-hatred and Spike is making her wish she is in an alternate reality where her life is a loony bin. It is beautiful though, and there are a lot of what if fics out there. Personally, I'm all about loving the Canon, so I mostly choose to focus on the later developments.

We get this back in the form of Buffy choosing Spike to be the Champion in Chosen instead of Angel. Yes, the necklace is god-awful ugly. Yes, you could argue she was choosing not to risk the alkaline element on Angel (I choose not to thank you very much, COOKIE DOUGH SPEECH). And speaking of the cookie dough speech, there is something of acceptance in that. Buffy's not done baking yet, but she wants Spike to be around while she preheats the oven. Yes, I love the cheesy metaphors that come along with that speech.

I love you. It's not even to make you love me.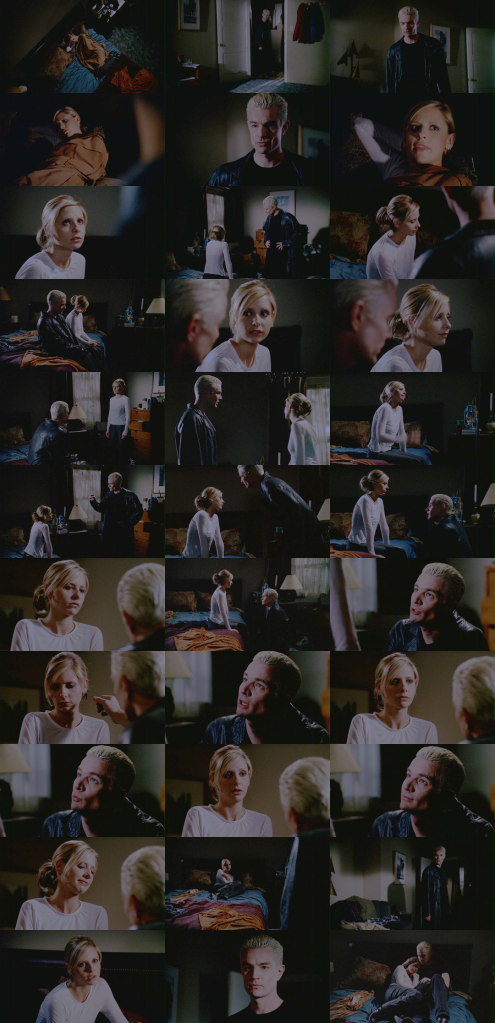 Spike: You listen to me. I've been alive a bit longer than you, and dead a lot longer than that. I've seen things you couldn't imagine, and done things I'd prefer you didn't. I don't exactly have a reputation for being a thinker; I follow my blood, which does not always rush in the direction of my head. So I've made a lot of mistakes. A lot of wrong bloody calls. A hundred plus years, only one thing I've ever been sure of. You.
(He moves to touch her cheek, she turns away)
Spike: Look at me. I'm not asking you for anything. When I tell you that I love you, it's not because I want you, or 'cause I can't have you -- it has nothing to do with me. I love what you are, what you do, how you try... I've seen your strength, and your kindness, I've seen the best and the worst of you and I understand with perfect clarity exactly what you are. You are a hell of a woman. You're the one, Buffy.
Buffy: I don't...I don't want to be the one.
Spike: I don't want to be this good-looking and athletic. We all have crosses to bear.
...Now you get some rest. I'll check in before first light, you can decide how you want--
Buffy: Could you...stay here?
Spike: Sure.
...That diabolical torture the Comfy Chair. Do me fine--
Buffy: No. I mean...here.
Will you just hold me?
- Touched, Season 7

Yes, I may have slightly overdone this part as well, but how pretty is this scene? And the way Buffy's voice just breaks at the end of it? Hold on, hold on, I'll get over the slight fangirl at the words (EVERY TIME, Joss, I love you. I'm still a little angry about Season 8, but I love, love, love what we got) in just a second.
There is such a wide difference between this and Angel's grand declaration of love ot Buffy. And I think this speaks of the selflessness more, Angel wants to protect Buffy. Spike realizes Buffy doesn't want that, and he sits there at her beck and call. Ready, waiting, hoping, that she'll ask him to do something. And I think that night is the most perfect reward. There is so much between two people that you will never know, but I know the way you're heart fills when someone tells you something selfless about you. My grandmother likes to say that to tell someone you're
in love
with them is telling them something about you. You're telling them you're capable of love, that you're worthy of the return. Telling them you love them, though, she says is speaking about them. They are worthy of love, they are important, they are cherished.
And that is all I can say about that without weeping openly. I cry during this scene, a lot.
I love you. It's as pure and simple as that.


So I leave you with not my own words but the words of Spock:

Because you needed each other. I could not deprive you of the
revelation of all that you could accomplish together, of a
friendship that will define you both in ways you cannot yet
realize.
-Star Trek (2009)
Sources:
Pics for the spam:
Screencap Paradise
,
Disparue
.
Metas and comments:
the_royal_anna
's
Spuffy Meta
,
shipperx
's
comments in
buffyquestions
.
Videos I watched over and over while spamming:
S&B Winter Song
,
Stripped